Auto Repair Shop in Coon Rapids, MN
Altra Muffler & Brake has proudly provided complete vehicle repair and maintenance services to drivers throughout Coon Rapids, Blaine, Anoka County, and Minneapolis, MN and the greater Twin Cities area since 2004. Backed by 30 years of expertise, our auto and tire shop team works diligently to provide your vehicle with the care it needs. No matter the make, model or year, expect superior service when you choose our shop!
Your Local Mechanic & Tire Shop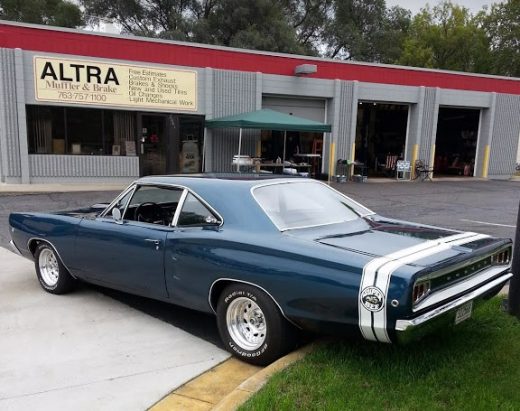 No matter what kind of car you're driving or how old it might be, it's going to need expert oversight and upkeep to stay roadworthy. From scheduled services to those pesky, unforeseen repairs, the team at Altra Muffler & Brake is ready to provide you with full-service auto repair in Coon Rapids, MN. We invite you to schedule an appointment with our mechanics the next time you need service and see why our customers frequently become customers for life! You'll experience upfront pricing and estimates, high-quality workmanship, and unrivaled customer satisfaction. And, we pride ourselves on always being an honest auto repair shop, meaning we won't upsell you on repairs you don't need. We'd rather earn your trust instead.
Our auto repair shop and tire shop in Coon Rapids, MN is outfitted to solve just about any need your vehicle might be experiencing. Count on us for tires, brakes, oil changes, exhaust, auto HVAC, engines, transmissions and anything else you might need! Our mechanics even offer in-house fabrication services for hydraulic hoses and exhaust components, cutting down on the cost and time it takes to get your vehicle back up and running again. Moreover, our mechanics work to get to the bottom of any problem or service need, to assure you complete, thorough service. When you drive off our lot, you'll do so with peace of mind every time, guaranteed.
We treat everyone like family! Just take a look at the many positive reviews our customers have taken the time to leave after doing business with us.
Our auto repair shop has been serving Coon Rapids and the greater Twin Cities area for more than 30 years.
We're affiliated with the National Federation of Independent Business (NFIB).
We accept most competitor coupons and will honor discounts and warranties on parts and service.
We offer free estimates on all of our repair and maintenance services.
Get Back on the Road
No matter what's wrong with your car or what services it needs to run smoothly once again, Altra Muffler & Brakes is here to help. Schedule a service appointment with us today.
A proud auto repair shop serving the following areas:
Andover, MN
Anoka, MN
Blaine, MN
Brooklyn Park, MN
Brooklyn Center, MN
Champlin, MN
Lexington, MN
Spring Lake, MN
St. Francis, MN